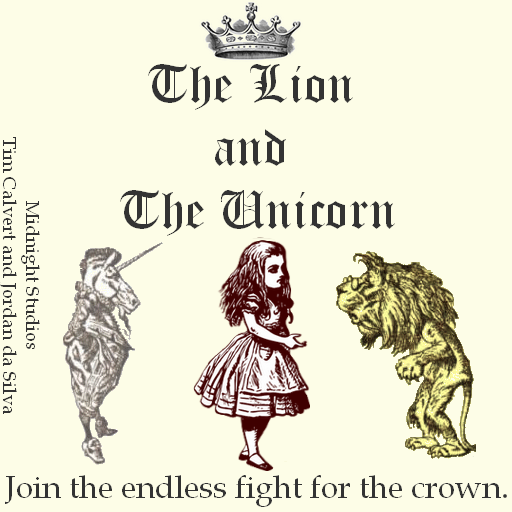 The Lion and The Unicorn
A downloadable game for Windows
This short game tells the story of the chapter of the Lion and the Unicorn from Alice Through the Looking-glass. In this chapter, Alice, Haigha (the King's messenger) and The White King watch the endless fight between the Lion and the Unicorn for the crown. All this happens while Alice tries to cut some bread and plum- cake.
This game has narration so audio is essential for you to understand both the story and the gameplay!
I made this game a few years ago when I was an exchange student at WPI with a collegue, Tim Calvert, for a Game Design class hosted by Brian Moriarty. It uses an javascript engine called Perlenspiel that is basically a grid that you can change colors and handle clicks/mouse/keyboard events.
Just download and then execute the cover.html (or game.html) to play the game!

Commands: Arrow keys to move and mouse to slice some food.
Download
Click download now to get access to the following files: